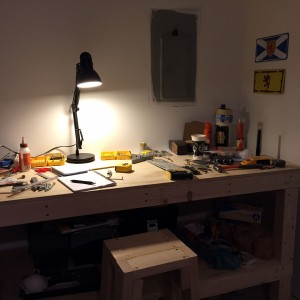 Hi. I'm no good at introductory things so I'll just say that I like to make things out of wood and sometimes they turn out alright looking so I post them here. If you're here that must mean you're a pretty cool person.
Thanks for stopping by. As thanks, here's a picture of my workbench with some very uninteresting things on it.
As you can see the main features are a workbench and a stool. The workbench is based off these plans and modified to fit my space. You can find more info on the stool coming soon.
In the works right now are a dining table, 2 benches (for the dining table), and a few more things. Stay tuned to see more!