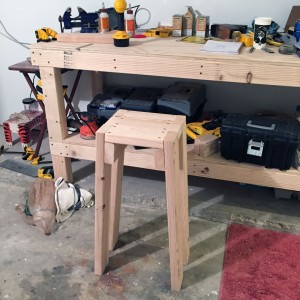 I was looking for a simple, cheap stool for my fledgling workshop, but every plan I found was unnecessarily complicated, with threaded rods for height adjustment, triple braced legs and so on. I found some simple stools on a classifieds site for $10 each (you know, the generic kind), so I figured unless I could make one for less than $10 there was no point in making one at all.
After some searching I came across this and decided to replicate it. All you need is two 8ft 2×4's and some wood screws (which comes out to about $6 here, maybe $6.50 if you include the price of the screws). I tried a couple of different angle cuts on a piece of scrap and decided that 4° looked closest. I did the 2 that will be the seat like so /—\ and the legs like so /——/. You don't need to angle cut the center seat piece or the supports. This ended up being about 28″ tall and the seat is 12″ wide x 10.5″ deep.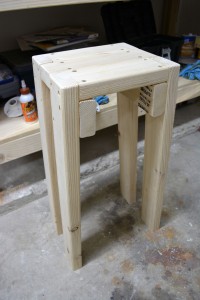 Mine doesn't look quite as nice as his, but I knocked this together in a couple hours without much forethought. If I was doing it for somewhere other than my workshop or to sell I'd get nicer wood, countersink the screw holes, finish it, and all that jazz. For a cheap workshop stool though, this will do nicely.
The photo up top is before sanding (and it was missing a few screws that I forgot so the legs are leaning in a bit more), to the right is after sanding. I just gave it a quick go over with 80 grit on the orbital sander and rounded the edges on the top. I might end up staining it at some point if I get bored, I think it could look pretty decent with some stain and tung oil.